The Pura X Smart Litter Box helps you by scooping and cleaning your cat's litter for you. The cleaning process starts when the smart sensors detect your cat has finished using it and ends when pet waste and clumps roll into the waste bin. A honeycomb-shaped mesh sifts and separates clumps from clean litter in the inner barrel. Once separated, it is dropped into the waste bin when the barrel rolls. A built-in deodorizer will spray a plant-based liquid above the waste bin to eliminate the odor at its source.
TECHNICAL SPECIFICATIONS
Material: ABS
Dimensions: 504 mm x 532mm x 646mm
Weight: 2.1 Kg
Capacity in Litter: 5.4 L
Wireless Connection: Bluetooth / Wifi
Power: AC adapter
Waste is separated and
stored in the bin below
MANUAL / AUTOMATIC
cleaning cycle
Instant cleaning or automatically initiates after every use
Keep track of your pets wellbeing and overall health
Numerous sensors for safety
Set times for when you want to clean the litter box
Deodorizer initiates after every use or set deodorizer schedules
Moderate your pet's bathroom habits and health with push notifications to your phone. The PETKIT app notifies you when the litter is running low, when the waste bin is full, and when the deodorizer fluid needs refilling. Have total control of your pet's litter box situation right at your fingertips.
The litter mat is double layered and made of environmentally friendly material. It also acts as a comfy landing pad for your cat's paws after they jump out of the litter box. The orange area in the image is considered the "safe zone," where litter is most likely to land. You can then empty the litter matt whenever it is convenient. The Pura X's front legs also secure it to the floor so it does not slip.
The Pura X Litter Box has an intuitive OLED display that users can perform various tasks via the device's front panel's control buttons. Turn the litter box on/off, set up cleaning cycles, empty the litter, or initiate the deodorizer manually.
There are sensors inside the litter box that detects activities in the surrounding environment that ensures your pet can use it safely. It will also monitor when it is an appropriate time to initiate automatic cleaning cycles. The Pura X has a Triple Anti-Pinch Protection system, developed based on a cat's natural behaviors. It also has multiple maintenance protection barriers to avoid a potential safety hazard.
Pura X uses two different meshes, depending on the type of litter used. It sifts through the cat litter to separate waste as the barrel rolls. Waste and clumps fall into the waste bin, and the clean cat litter will remain in the inner bucket.
The Pura X Litter Box has a waste bin located under the unit that stores waste and clumps. When the waste bin is full, you get a notification on the Petkit APP and OLED screen. Pull open the bottom drawer containing the waste bin and throw the drawstring bag into the trash.
Ultrasonic atomizing spray
A special deodorizing liquid that atomizes and sprays the waste bin ensures odor control at the source. The ultrasonic wave is quiet so that your cat will not be disturbed. It also prevents the litter from mildewing.
​
Purifying Refill Solution
​
The purifying refill solution is non-toxic and made from raw materials that are safe for use around pets. It also contains plant extracts that safely decomposes ammonia and hydrogen sulfides found in cat waste. The refill bottles are 55mls, which can last roughly around 30 days for a single cat household.
​
​
​
​
​The Pura X Litter Box can accommodate standard clay litter, mixed litter, and our tofu litter. The used cat litter falls into the waste bin at the bottom of the unit. Waste and clumps are rolled in the barrel after the cleaning cycle starts. The deodorizing liquid sprays the bin area to ensure the odor is vanquished.
Turn the knob on the back of the Pura X Litter box to unlock it. Lift the lid to open it so that you can remove the inner barrel.
You got your Pura X Litter box and excited to start using it! This video tutorial will show you how to unbox your PURA X and get it ready for the binding process (see next video)!
You got your Pura X Litter Box and excited to start using it! This video tutorial will show you how to connect it to wifi, scheduled feedings, and set portion sizes. You can now feed your pet anytime, anywhere!
You've been using your PURA X, and now it's time to clean it! This video tutorial will show you how to clean your PURA X step by step.
Frequently Asked Questions
What sized cat can use the Pura X?
---
The reccommended size for a cat to use the Pura X is a maximum of 16 kg. The inner dimensions of the litter box is 46cm wide and 42cm deep.
---
How stable is the Pura X? Will it fall over?
---
The Pura X sits on four legs offering stability with non-slip bump ons under its feet. The litterbox is 2.1 kg (about 5 lbs). It is also heavier when using litter.
---
Can it be used for multi-cat households?
---
Yes! This can be used for a multi cat household. The toilet area can fill up to 7L of litter at once and can be cleaned a minimum of once a week.
---
Can my cat get stuck inside?
---
The litter box has 12 safety sensors that initiates when a cat enters or leaves the litter box. When a cat approaches the litter box, all sensers stop and allows for it to enter. You will get a notification or text message anytime there is activity.
---
What if my cats stool is soft? Can it be cleaned?
---
There is a sillicon layer inside the barrel of the litter box that deforms when its rolling and separating waste. This layer solves the issue of soft stools sticking to the inside of the litter box. The layer is also designed to be detachable, so it can be easily cleaned. To remove it, remove the litter box lid and take it out.
---
How often do I have to refill the deodorizing fluid?
---
You will be notified on the app as to when you need to refill it. It is estimated to refill the deodorizing fluid every 30 days. This is also dependent on how many cats will be using the litter box. If used more frequently, expect to refill more often.
---
How often do I need to refill my cat litter?
---
One bag of 6L of litter can be used for a total of 14 days. You will also be notified to refill litter through Petkit app notifications.
---
How do I connect the Pura X to the PETKIT app?
---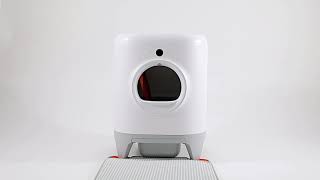 ---
---
Did you know you can find our products in retail stores across North America and online? Check out our participating retailers and online marketplaces!
This super-absorbent cat litter is twice as effective, clumps better, and is much easier to clean up. With 5-in-1 Tofu Litter, rest assured there are no chemicals or artificial additives for you or your pet. It has a 55-degree hardness level, and built-in activated carbon compounds, which means this flushable litter is dust, bacteria, and odor-free!
66.7% Tofu cat litter + Activated carbon
29% Bentonite clay particles
ODORLESS natural SOLUTION
Activated carbon, odor-eliminating particles, and a cat litter mixture provide triple deodorization! It also drives away unwanted smells when scooping. Considering a cat's natural behavior to groom and lick their paws, this litter is made from natural raw materials with no additives..
0.43% odor-eliminating particles
​This litter stays dry because it is made of 10% moisture and bacterial suppressants to ensure that it won't mildew. Your cat will stay dry after using the litter box, and scooping will be a lot easier on you
The 5-in-1 Cat Litter comes in vacuum-sealed packaging to provide customers with a larger quantity of litter. It is also available in a pack of four, ensuring long time use and cleaner presentation. This litter has a 24-month shelf life as well.
​
PACK OF 4 (Lasts approx. 3 months)
SINGLE PACK (Lasts approx. 21-25 days)
The 5-in-1 Cat Litter is flushable! It dissolves in water, making scooping and clean up hassle-free for even the busiest of cat owners. It is also great for condo dwellers. Just make sure to flush in moderation to avoid clogging the toilet and ask your building management about their policies beforehand
We have a variety of products for pets! Whether you need a new food dish or a water bowl, or even something on the go. We at Instachew strive to make the life of a pet parent easier and the life of a pet more enjoyable.
Get the Lastest on
Instachew!
Want to be the first to know about our product launches, news, collaborations, and other exclusive content? Become part of the Instachew community today! Sign up by entering your name and email address. It's that easy!